Phase Dynamics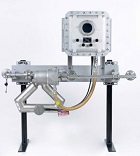 Fiscal Skid Analyzers
Phase Dynamics Fiscal Skids are custom designed for Custody Transfer applications such as pipeline and tanker unloading facilities.  These are typically installed in a fast loop at the outlet of the processing facilities or pipeline storage.
The system integrates a Water-Cut Analyzer and a Coriolis flow meter to provide flow computer functions in terms of Total Oil and Total Water.  Customers have certified and approved this Analyzer for Custody Transfer applications.  API guidelines for the electronic water percentage measurement standard have been considered and followed.
Measuring Range
The Fiscal Skid includes a Low Range Analyzer for this application.
Parameter

Low Range

Measuring Range

0-4%

0-10%

0-20%

Uncertainty (2σ)

+/-0.04%

+/-0.04%, 0-4%
+/-0.1%, 4-10%

+/-0.04%, 0-4%

+/-0.1%, 4-10%

+/-0.2%, 10-20%

Repeatability

+/-0.02%

+/-0.02%

+/-0.1%

Resolution

0.01%

0.01%

0.1%