Stream-Flo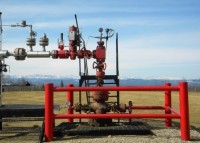 Self-Contained Hydraulic Valve Actuation
a manual hydraulic pump and control assembly, a reverse-acting gate valve, and some form of tripping control(s).
compressed air, gases or electricity for power. Instead, the system utilizes its own clean, contaminant-free, closed-loop hydraulics to power and control the actuation component. This makes it ideal for use in remote locations and in applications where a power source for actuation is unavailable, unreliable or too costly to produce and/or maintain.
Crown self-contained hydraulic valve actuation systems are API 6A certified and SIL 3 capable to provide reliable protection of personnel, facilities, resources and the environment.
the Stream-Flo self-contained hydraulic valve actuation system doesn't release control fluid (gases or liquids), produced or otherwise, to the atmosphere or empty it on the ground during the actuation process, either of which are characteristics of many actuation systems that use produced fluids (gases or liquids) as their power source. This feature greatly enhances operator and environmental safety.
Crown self-contained hydraulic valve actuation systems can be triggered in a number of ways:
Sensor – Fire
Sensor – Flow
Sensor – Gas
Sensor – Level
Sensor – Pressure
Sensor – Rate-of-pressure-drop
Sensor – Temperature
Solenoids
SCADA
Other application requirements
Applications
Crown self-contained hydraulic valve actuation systems can be applied as:
Emergency Shutdown Valves (ESDVs)
High Integrity Protection Systems (HIPSs)
High Integrity Pressure Protection Systems (HIPPSs)
Shutdown Valves (SDVs)
Surface Safety Valves (SSVs)
In the following applications:
Well – Conventional
Well – Gas Storage
Well – High Pressure
Well – High Temperature
Flowlines
Manifolds
Skids
Water Disposal
Design
Self-Contained Hydraulic Design Features: Actuator
thus providing ease of service or replacement.
Self-Contained Hydraulic Design Features: Assembly
both upper and lower, are incorporated in the bonnet assembly. This enables the valve and bonnet to be completely assembled and stroke set independent of the actuator. A metal-to-metal stem back seat provides a means of sealing to isolate the stem-packing cavity from the flow medium in the event of a stem packing failure in addition to providing an upper travel stop for the gate.
Self-Contained Hydraulic Design Features: Pump Control Unit
closed-loop power source for both the actuator and its control circuits, thus eliminating the need for an external power source. The use of the system's own clean hydraulic fluid as an operating medium ensures that the actuator and its control circuits are never in contact with the produced fluid (gases or liquids) nor a possibly contaminated external power supply. This also ensures the system is never contaminated by possible atmospheric or environmental contaminants.
designed for ease of removal and modular component replacement,  consists of a manual pump, a pressure-reducing valve with a built-in accumulator, and a manual override/manual shutdown valve. The check valve in the pump provides leak-tight checking of the high-pressure hydraulic fluid back flow, ensuring reliable performance and low maintenance. The large suction filter in the pump provides high flow and extended trouble-free service life.
Specifications
Valve
API 6A Sizes: 1-13/16" to 11"
000 psi
API 6A Temperature Classifications K to Y (-75°F/-60°C to +650°F/+345°C)
API 6A Material Classes AA to HH
API 6A Performance Requirements 1 & 2
2, 3, 3G & 4
SIL 3 Capable
Fire-Safe Capable
Actuator 
Operating media: Clean hydraulic fluid
Pump Control Unit
Component materials: Anodized aluminum and stainless steel (optional materials available upon request)
Controls & Accessories
Crown Access Tees
Crown Pilot Isolation Valves
Crown Pump Control Units – Electro-Hydraulic 
Crown Pump Control Units – Remotely Mounted
Custom Engineered Spool Pieces
Custom Packaged Actuation Systems
Indicator Rod Protectors
Limit Switches
Lock Open Devices
Lock Out of Service Devices
Theft Proof Enclosures
Other application requirements
For more information, please contact our sales representative.