Stream-Flo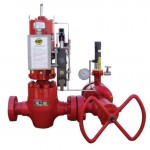 Hydraulic Valve Actuation
Stream-Flo's Crown hydraulic actuated valves are used for the automatic closing of gate valves on wellheads and flow lines under emergency conditions. The system consists of a hydraulic actuator and a reverse-acting gate valve.
Crown hydraulic actuated valves are API 6A certified and SIL 3 capable to provide reliable protection of personnel, facilities, resources, and the environment.
Applications
Crown hydraulic actuated valves can be applied as:
Emergency Shutdown Valves (ESDVs)
High Integrity Protection Systems (HIPSs)
High Integrity Pressure Protection Systems (HIPPSs)
Shutdown Valves (SDVs)
Surface Safety Valves (SSVs)
In the following applications:
Wells – Conventional
Wells – Gas Storage
Wells – High Pressure
Wells – High Temperature
Wells – Water Disposal
Flowlines
Manifolds
Skids
Design
Hydraulic Design Features: Actuator
thus providing ease of service or replacement.
Hydraulic Design Features: Assembly
both upper and lower, are incorporated in the bonnet assembly. This enables the valve and bonnet to be completely assembled and stroke set independent of the actuator. A metal-to-metal stem back seat provides a means of sealing to isolate the stem-packing cavity from the flow medium in the event of a stem packing failure in addition to providing an upper travel stop for the gate.
Specifications
Valve
API 6A Sizes: 1-13/16" to 11"
000 psi
API 6A Temperature Classifications K to Y (-75°F/-60°C to +650°F/+345°C)
API 6A Material Classes AA to HH
API 6A Performance Requirements 1 & 2
2, 3, 3G & 4
SIL 3 Capable
Fire-Safe Capable
Actuator 
Standard Maximum Cylinder Working Pressure – 3500 psi (optional maximum cylinder working pressures available upon request)
Accessories
Custom Packaged Actuation Systems
Indicator Rod Protectors
Limit Switches
Lock Open Devices
Theft Proof Enclosures
Other application requirements
For more information, please contact our sales representative.