Stream-Flo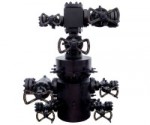 High Temperature Wellhead
our thermal wellhead technology has continually evolved and can now be found in use in high-temperature production and injection applications around the world. This includes cyclic steam stimulation (CSS), in situ combustion, toe-to-heal air injection (THAI), and evolving leading-edge solutions. We also work with producers to develop high-temperature wellhead technology for new approaches to using thermal technologies in the production of heavy oil.
adapters, heads and gate valves, and is designed to accommodate multiple tubing strings, instrumentation lines and artificial lift.
Please contact our sales representative.