Securiplex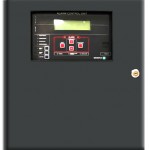 Propak Alarm Control Unit
The PROPAK Alarm Control Unit is a compact panel design providing detection and control of local and auxiliary alarm systems. Approved for releasing service, it performs fire as well as gas detection and can be easily programmed for the control of various auxiliary functions such as fire suppression supervision and release, fire door and ventilation control, emergency shutdown of equipment as well as communication to the fire services. The unit is designed and constructed in accordance with UL-864, ULC-S527 and complies with the requirements of NFPA 72.
KEY FEATURES
8 initiating circuits – conventional or 4-20mA device
Three alarm levels for gas detection
Available with 4 line x 24 LCD display
4 supervised solid state control outputs
4 relay or 16 relay outputs
Common alarm and trouble relays
PC programmable
Suitable for releasing device service
Service mode feature for testing
RS-485 MODBUS interface capability
The PROPAK has a windows-based built-in field programming capability. This allows the user to select the type of input, select sensor range, alarm level and time delays between detection and activation. Outputs can be programmed to operate with any input or combination of inputs using AND / OR Boolean logic. A laptop computer loaded with the field programming software is used to communicate with the PROPAK and upload the desired programming.
For more information, contact us here.