Automasjon Og Data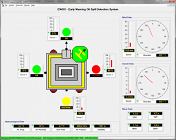 Early Warning Oil Spill System
wave and current forces on the oil spill.  The number of oil spill sensors to be installed needs to be evaluated for each installation, but correctly located and used in a logic combination these can be used to find the source of the oil spill as fast as possible.
EWOS is a dedicated tool for Real-time Early Warning when an oil spill occur.
Main advantages are:
Real-time oil spill watch.
User-friendly logic displays for immediate decision support.
Immediate alarm if an oil spill occurs.
Adjustable alarm sensitivity to avoid false alarms.
Alarms or other data from the EWOS system can be sent to other local or remote users as required.
Non-Contact sensors.
Low maintenance requirements.
Automated, Optical, Non-Contact Sensor
Patented UV Filter-Fluorometer Methodology.
Oil-On-Water Detection: Crude Oil, Fuel Oil, Diesel, Slops, etc.
Sensitivity: 5 +/- Micron Sheen with User Adjustable Sensitivity.
Discrete Alarm and/or Scaled Signal Output.
Range: maximum 20 Meters (Maximum Distance Above Surface). Other ranges can be discussed upon request.
Installation hardware can be custom-design and included in the complete delivery.